The skincare fridge – also known as the makeup fridge or beauty fridge – is a must-have beauty tool right now.
First and foremost, keeping your beauty products fresh and active for a longer period of time is critical, and this is when a skincare fridge comes in handy.
Compared to the average refrigerator, such as your kitchen fridge, skincare fridges are much smaller in size.Given their size, you could easily place them on your work desk, in the bedroom, and even bathroom.Most people use skin care refrigerators to cool down their face masks, face mists, and creams without food odors thrown into the mix.
Although the idea of buying a mini-fridge devoted exclusively to storing skincare sounds a little outlandish, the 'skin care fridge craze' is sweeping the wellness scene right now.
A growing number of popular brands have started to produce downsized fridges, solely to refrigerate skincare and beauty products.
So, if you're curious as to why anyone would shell out $100 just to cool their serums and face creams, this article is for you!
Find out why these beauty tools are more than just convenient storage of your skincare regimen, or lovely additions to one's vanity display.
1. FaceTory Portable Coral Beauty Fridge with Heat and Cool Capacity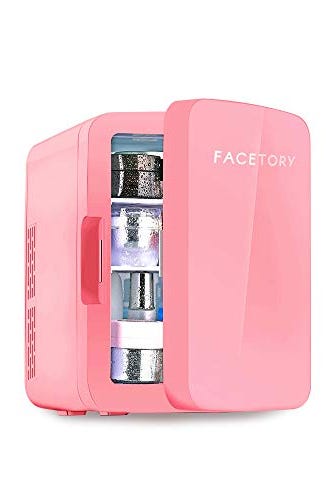 What's cool about this beauty fridge is that there's a dry erase board on the inside, so you can write reminders to yourself (like when you purchased that lotion or mascara, maybe?) in addition to being able to hold up to 10 liters worth of stuff.
2. Beauty Spy Mini Fridge
This compact blue mini fridge includes a top handle that makes it easy to tote around with you. The temperature can be set to a cool 46° to 55°F, which derms say is the perfect medium for chilling—not freezing—your liquid products.
3. Wireless Speaker Combo Mini Fridge by Gourmia
Ever wish your fridge could double as a speaker? This one does!  
Not only will this skincare fridge keep all your products cool as cucumbers, but it also has a Bluetooth speaker so you can pull double-duty and play your favorite tunes.It comes in black and silver, it looks well around other electronics you have in the house.Specs-wise, this skincare mini fridge delivers way above the most stringent needs in the skincare routine.
4. Fria Skincare Fridge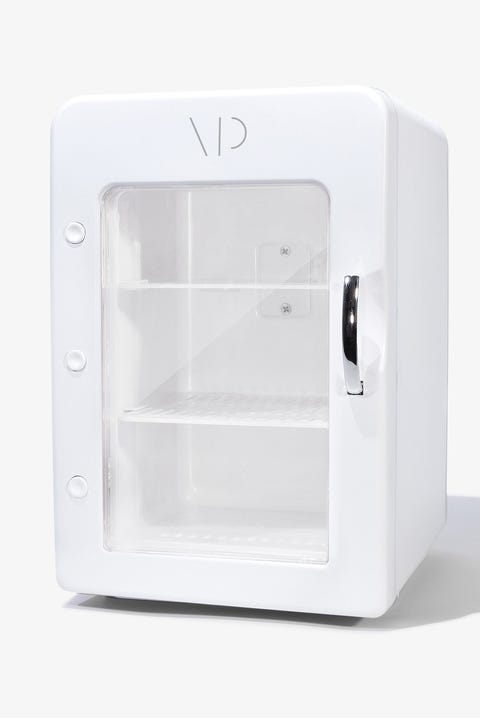 If you want to keep your beauty fridge on display, this all-white (it also comes in rose gold) option is perfect, since it has a clear window for you to keep track of everything you've stashed inside. 
5. Pearl Boba Tea Mini Fridge by Soko
If this is not the cutest mini fridge for makeup you've ever seen, then I don't know what it is!
This ten-liter beauty fridge from Smoko is the perfect place to store your beauty products.Also, this skincare fridge features two removable shelves and inner door storage.However, the fridge's pièce de résistance is its boba-inspired design.As such, the fridge comes complete with a little pink straw poking out on top.
6. Cooluli Mini Beauty Refrigerator
If you're not into the pink exterior, this baby skincare fridge also comes in all white and a cow print! 
7. Flawless Finishing Touch Mini Beauty Fridge
The space apportioning of this fridge is perfect—it even has a side basket for storing sheet masks, rollers, or ice packs. Users love how it fits so much without taking up that much room.
8. Infinity 0.53 Cubic Feet Mini Fridge by Cooluli
Cooluli is one of the few brands out there that markets mini-fridges with skincare products in mind.If this is not the best skincare fridge on this list, it is for sure the cutest!This hot pink model features a dual-voltage system that makes it compatible with outlets in every country.
Moreover, it even has a contractible handle on the top, for easy moving.The 15-liter capacity makes it super spacious and easy to fit most of your cosmetics inside.Moreover, the built-in shelves (five) will allow you to store products of varying sizes and shapes.
9. Uber Appliance UB-XL1 Personal Portable Mini Fridge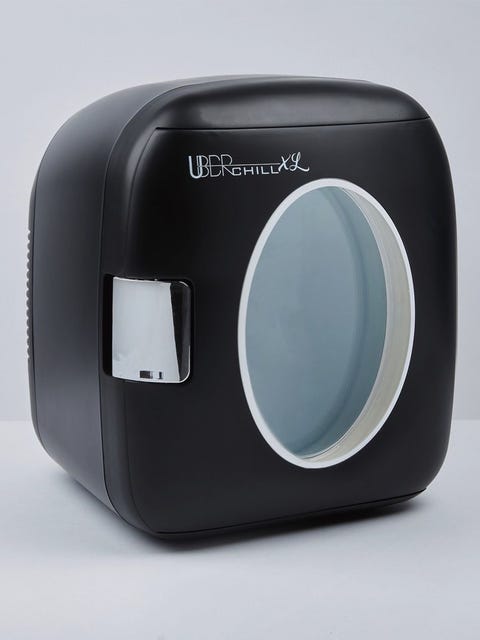 Okay, here's what you can fit into this futuristic-looking baby: 12 12-ounce cans of whatever your heart desires. So, whether you're scooping this mini cooler to stash your sparkling (and spiked) lady waters, or using it as a beauty fridge, rest assured its 40-45 degree temp will keep your drinks, makeup, and skincare super chill. 
10. Teami Mini Skin Care Refrigerator
This cute mini skincare fridge has two removable shelves, so you can stash taller beauty products in it. Plus, it has a little compartment on the door so you can fit that jade roller you're obsessed with in it.
11. Teami Blends Luxe Skincare Fridge
This cutesy pink fridge comes with more than ample storage space, plus an LED beauty light and front glass panel. Also, can we just take a moment to appreciate those gorgeous rose gold accents?